Community Profile

Free Account
Created on 2017-04-06 22:21:21 (#2928511), last updated 2017-04-18 (22 weeks ago)
25 comments received
10 Journal Entries, 8 Tags, 0 Memories, 1 Icon

About
| | |
| --- | --- |
| Name: | at Crickhollow |
| | |
| | |
| Membership: | Closed |
| Posting Access: | All Members |
| | |

Mini Bio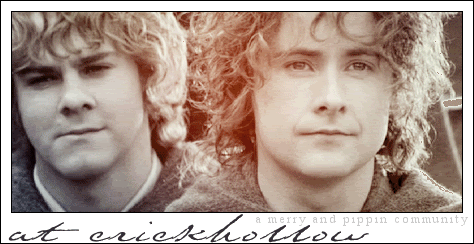 :: at crickhollow is a livejournal community dedicated to Merry and Pippin, as a pairing. That means, there will be slash content (and pre-slash content, too, just as long as eight-year-old Merry isn't perving on newborn-Pippin, if you know what I mean).
:: So, if that's something that you happen to like, then this will be the place for you. Fanfic, fanart, pic spams, recs, and discussion related to Merry and Pippin, those are all allowed. (Though, just to keep our heads and our hobbits in Middle-earth, I am going to have to say that Modern Day AU-fic is not allowed.)
:: Above and beyond anything else, this is a community about them together, or getting together -- or, well, I'm sure you see what I mean.

:: Use lj-cuts when needed. (
How to lj-cut, and other lj-specific tags.
)
:: Off-topic posts will be deleted.
:: No advertising -- such posts will be considered off-topic, and will be deleted.
:: When posting fic or fanart, crossposting is allowed. Make sure all stories have proper warnings/summaries/ratings. I will most likely go back and tag all entries myself.
:: While this
is
a Merry/Pippin community, that doesn't mean that other pairings aren't allowed in the same story -- but there should be Merry/Pippin content, too (as the main content, even). This means that het is allowed, and hobbitpiles, too (so, yes, OT3 and OT4-type things, as long as Merry and Pippin are included). The more the merrier, I say. (Or Pippiner, if you fancy that certain Took.)

:: If you have any questions, or are interested in affiliation, please contact the moderator (danachan) at songofvarda @ gmail . com.
:: Mod: (danachan)
:: Co-mod: (slightlytookish)
Administrators

Linking
To link to this user, copy this code:
On Dreamwidth:
Elsewhere: